Ultra-fast, ultra-portable RF analysis up to 14.5 GHz
The SP145 is a high-performance, 14.5 GHz real-time spectrum analyzer and monitoring receiver featuring sweep speeds up to 200 GHz/sec, 40 MHz streaming bandwidth, -160 dBm displayed noise average, and an internal GPS for enhanced field measurements.
At-a-glance specs:
100 kHz to 14.5 GHz frequency range
Sweeps at 200 GHz/sec (at ≥70 kHz RBW)
Calibrated Streaming I/Q: Up to 40 MHz of selectable I/Q streaming bandwidth
Connects to a PC for analysis (Spike spectrum analysis application included) via USB-C
Small form factor: 7.45″ x 4.51″ x 1.81″ (189mm x 115mm x 46mm) 1.1 lbs.(0.5 kg)
Extended temperature range option available
Compatible with Windows or Linux, x64_86 architecture
How does the SP145 compare with other Signal Hound spectrum analyzers?
Download this PDF to see the comparison.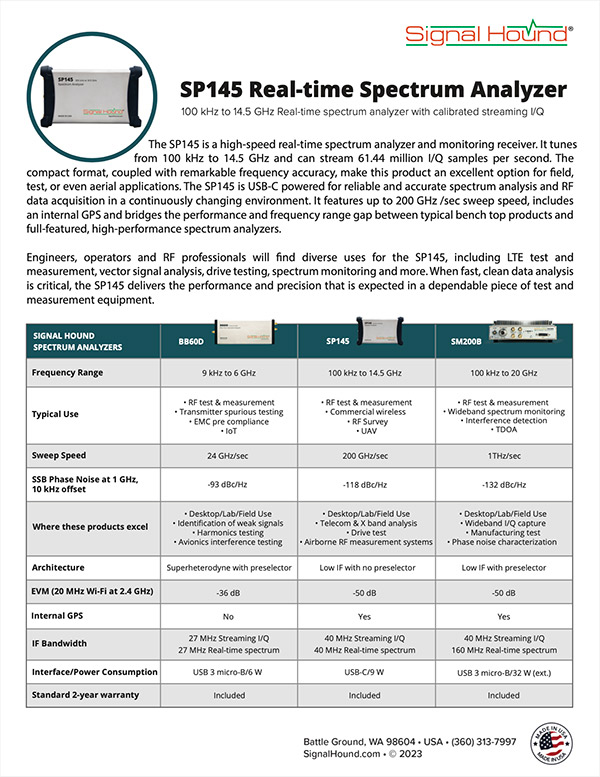 Download the comparison sheet
What comes in the box?
SP145 spectrum analyzer
Spike spectrum analysis software, API, and manuals download card
GPS antenna w/ 3m cable and SMA connector
Locking USB-C cable
Calibration certificate
Declaration of conformity