Specialized devices for a specialized industry.
All Signal Hound devices are not created equal, and we did this for a reason.
When we started Signal Hound, we didn't want to create yet another spectrum analyzer that does more than you need for too much money. Instead, we decided that we would provide powerful tools that do exactly what you want, at a price you won't believe.
Check out the chart below for a device vs. device feature comparison. We tried to be as thorough as possible, but in case we missed something, don't hesitate to contact us for more information, or post a question on our forums.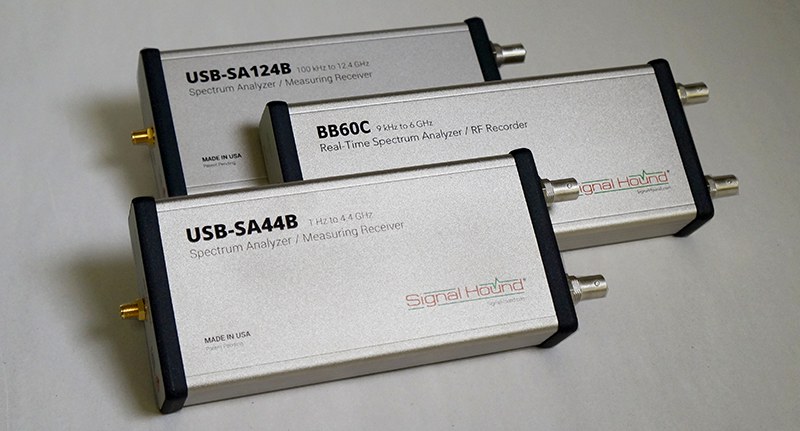 Feature
BB60C
USB-SA44B
USB-SA124B
SM200B
Frequency Range
9 kHz to 6.0 GHz
1 Hz to 4.4 GHz
100 kHz to 12.4 GHz
100 kHz to 20.0 GHz
Streaming calibrated I/Q Data
250 kHz to 27 MHz of selectable IF bandwidth, amplitude corrected
250 kHz IF bandwidth, amplitude corrected
250 kHz IF bandwidth, amplitude corrected
5 kHz to 40 MHz of selectable I/Q bandwidth
Amplitude
+10 dBm to Displayed Average Noise Level (DANL)
+10dBm to Displayed Average Noise Level (DANL)
+10 dBm to Displayed Average Noise Level (DANL)
+10 dBm to Displayed Average Noise Level (DANL)
Amplitude Accuracy

±2.0 dB (Flat-top Windowing)

±1.5dB (0dBm to DANL)
±2.0dB (+10dBm to >0dBm)

±1.5 dB (100 kHz to 6 GHz, 0dBm to DANL)
±2.5 dB (6 GHz to 12.4 GHz, 0dBm to DANL)

±2.0 dB (100 kHz to 6 GHz, Flat-top Windowing)
±3.0 dB (6 GHz to 20 GHz, Flat-top Windowing)

Image / Spurious Performance
< –50 dBc, via hardware filtering
Unspecified, via software filtering
Unspecified, via software filtering

100 kHz to 6 GHz: -58 dBc
6 GHz to 10 GHz: -55 dBc
10 GHz to 20 GHz: -44 dBc

Sweep Speed
24 GHz/sec
140 MHz/sec
140 MHz/sec
1 THz/sec @30 Khz RBW
Device Weight
1.10 lbs. (0.50 kg)
.64 lb. (0.29 kg)
.78 lb. (0.35 kg)
7.77 lbs. (3.52 kg)
Device Size
8.63" x 3.19" x 1.19"
(219mm x 81mm x 30mm)
7.7" x 3.19" x 1.19"
(196mm x 81mm x 30mm)
7.7" x 3.19" x 1.19"
(196mm x 81mm x 30mm)
10.2" x 7.2" x 2.15"
(259mm x 183mm x 55mm)
Tracking Generator Compatible?
Yes, with all Signal Hound TG-model devices
Yes, with all Signal Hound TG-model devices
Yes, with all Signal Hound TG-model devices
No
System Requirements

Windows® 7, Windows® 8, Windows® 10
Intel® i7, 3rd generation or later with a quad core processor

Windows® 7, Windows® 8, Windows® 10
Minimum of an Intel® Atom™ N2600 or Intel® Core™ i3 processor

Windows® 7, Windows® 8, Windows® 10
Minimum of an Intel® Atom™ N2600 or Intel® Core™ i3 processor

Windows® 7, Windows® 8, Windows® 10
Intel® i7, 3rd generation or later with a quad core processor
(1) USB 3.0 port

Price
BB60C

$3600 USD

Learn more
USB-SA44B

$1195 USD

Learn more
USB-SA124B

$2575 USD

Learn more
SM200B

$15550 USD

Learn more