Signal Hound Instrument Drivers for LabVIEW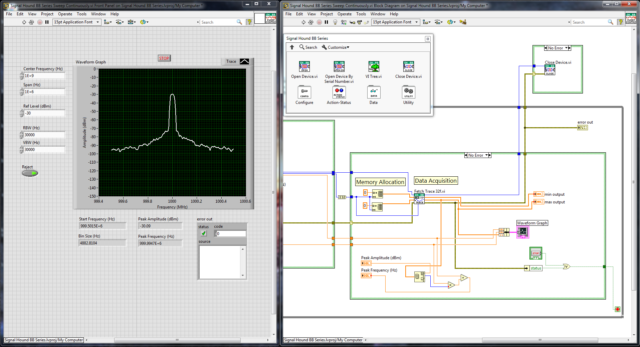 The Signal Hound instrument drivers for LabVIEW® enable Signal Hound spectrum analyzers and signal generators to interface with LabVIEW, National Instruments' industry-standard software for data acquisition and instrument control.
The drivers provide virtual instruments (VIs) which expose the functionality of the Signal Hound APIs within LabVIEW's graphical programming environment. All Signal Hound devices are supported: SM200A/B/C, BB60A/C, SA44(B), SA124A/B, TG44A, TG124A, VSG25A, and VSG60A.
PC Requirements for use of instrument drivers:
Windows® 7/8/10 or 64-bit Linux®
Intel® quad-core i-Series processors
4 GB of RAM or more is recommended
Native USB 3.0 support (For BB60A/C and SM200A/B)
1x USB 3.0 port for SM200A/B and VSG60A
2x USB 3.0 port (recommended) or 1x USB 3.0 and 1x USB 2.0 port (For BB60A/C)
2x USB 2.0 port for the SA124A/B
1x USB 2.0 for the SA44(B), TG44A, TG124A, or VSG25A
1x 10 Gigabit Ethernet port for SM200C
Software Requirements:
Download the Signal Hound Instrument Drivers for LabVIEW