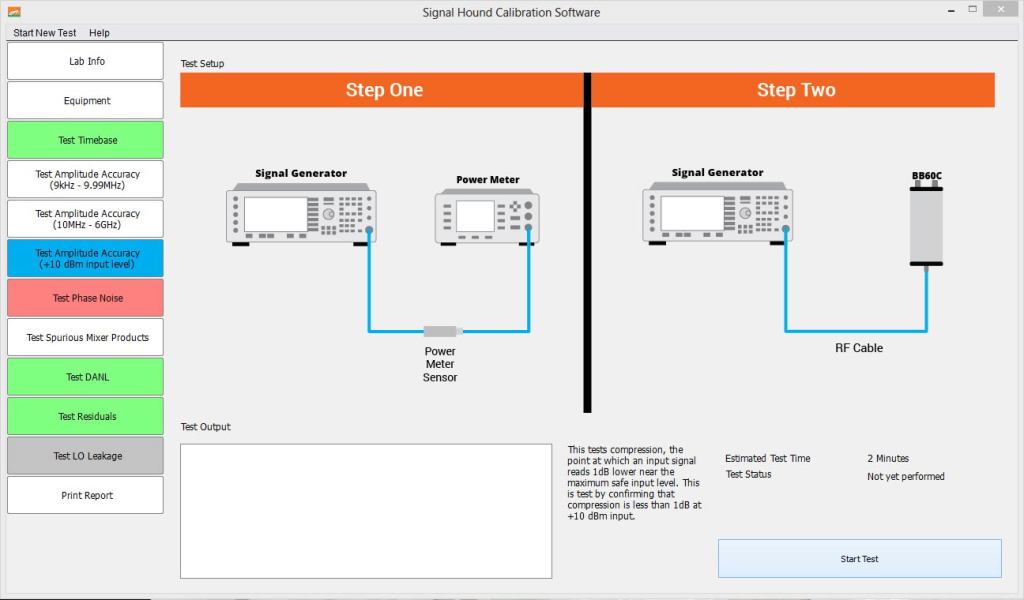 The Signal Hound Field Calibration software is a PC-based application for running performance verification tests and making adjustments to the Signal Hound BB60A/C/D, SA44B, SA124B, SM200A/B/C, SM435B/C, TG44A, TG124A, VSG25A, VSG60A, and PNCS-1.
PC Requirements for calibrations:
Windows 11/10/8/7
Intel quad-core i-Series processors
4 GB of RAM or more is recommended
Native USB 3.0 support (for BB60A/C/D, SM200A/B, SM435B, and VSG60A)
2x USB 3.0 port (recommended) or 1x USB 3.0 and 1x USB 2.0 port (for BB60A/C/D)
10GbE network connectivity through NIC via SFP+ connectors or through Thunderbolt 3 to SFP+ adapter (for SM200C and SM435C)
2x USB 2.0 port (for SA124B)
1x USB 2.0 port (for USB to GPIB controller)
1x USB 2.0 port (for SA44B, TG44A, TG124A, and VSG25A)
Spike software application installed, with Spike drivers
Additional Requirements:
USB to GPIB controller (Agilent 82357B recommended)
You will also need certain models of equipment from HP/Agilent/Keysight, dependent on the type of calibration you are performing. See the manual for full details.
Download The Calibration Software (64-bit)
Version 1.12.15 for Windows 11, 10, 8, & 7
View the release notes.