In our new Tech Brief, 7 Reasons You're Paying Too Much for Your Spectrum Analyzer, we discuss how a company may be spending too much money on RF test equipment that is overkill when compared to their actual needs.
How low can you go?
For reason number one, we pose the question – how much dynamic range do you need? The dynamic range of an RF spectrum analyzer is a critical specification and one that is dependent on the type of work you're doing. This is especially important when looking for low-level signals, as the dynamic range of a device determines the engineer's ability to distinguish an actual signal from the noise floor.
In many cases, the main objective may be to accurately characterize the main signal. In these instances, having a 60 dB signal-to-noise floor may be more than enough. Some labs or test stations may require a more expensive spectrum analyzer that offers 85 dB or more.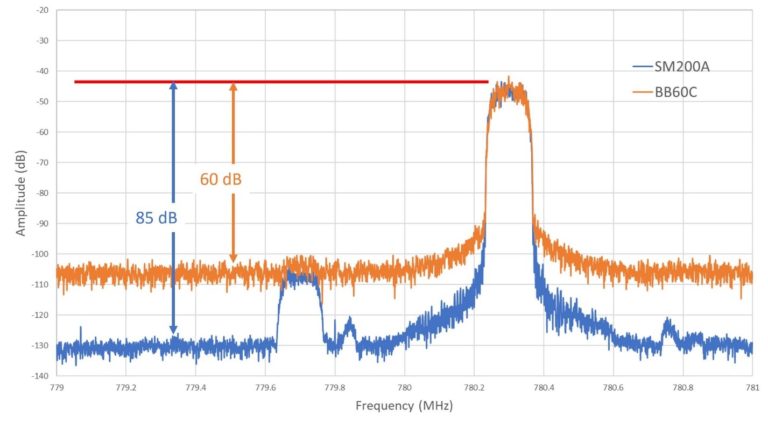 What do DANL numbers actually mean?
Deciphering the dynamic range specification of an analyzer can be confusing. Often a very low number for DANL, or Displayed Average Noise Level, is displayed (e.g. less than -150 dBm/ Hz). The DANL numbers can sometimes be misunderstood, as they depend on many factors such as frequency, attenuation, detectors, preamps, etc.
To make a simple comparison between spectrum analyzers one can look at the maximum dynamic range specified as two-thirds of the difference between the 3rd order intercept point and DANL at 1 GHz. The following table provides a comparison of the performance of the Signal Hound families along with Keysight's MXA:
| Analyzer | Maximum Dynamic Range @1 GHz | Price |
| --- | --- | --- |
| Signal Hound SA44B 4.4 GHz, 250 kHz IBW | 104 dB | $1005 USD |
| Signal Hound BB60C 6 GHz, 27 MHz IBW | 95 dB | $2995 USD |
| Signal Hound SM200B 20 GHz, 160 MHz IBW | 118 dB | $12,800 USD |
| Keysight N9020B-526-B1X (MXA) 26.5 GHz, 160 MHz IBW | 116 dB | $72,329 USD |
What else should I look for when shopping spectrum analyzers?
Knowing your needs regarding dynamic range is important, but there are other factors that you should consider as well. To help you sort through this complex process, we've created a handy guide – 7 Reasons You're Paying Too Much for Your Spectrum Analyzer. Download the guide, read through it, and if you have any questions be sure to post them in the comments!
---
Want to see all 7 reasons?
Listen, we understand that it's hard to believe that a lower-cost spectrum analyzer can provide high-quality RF analysis data – it sounds almost too good to be true. There are a few things that make sense, though, when you understand the reasons why our devices cost less. This tech brief helps clarify these reasons.
Download the Tech Brief now (4 MB PDF)